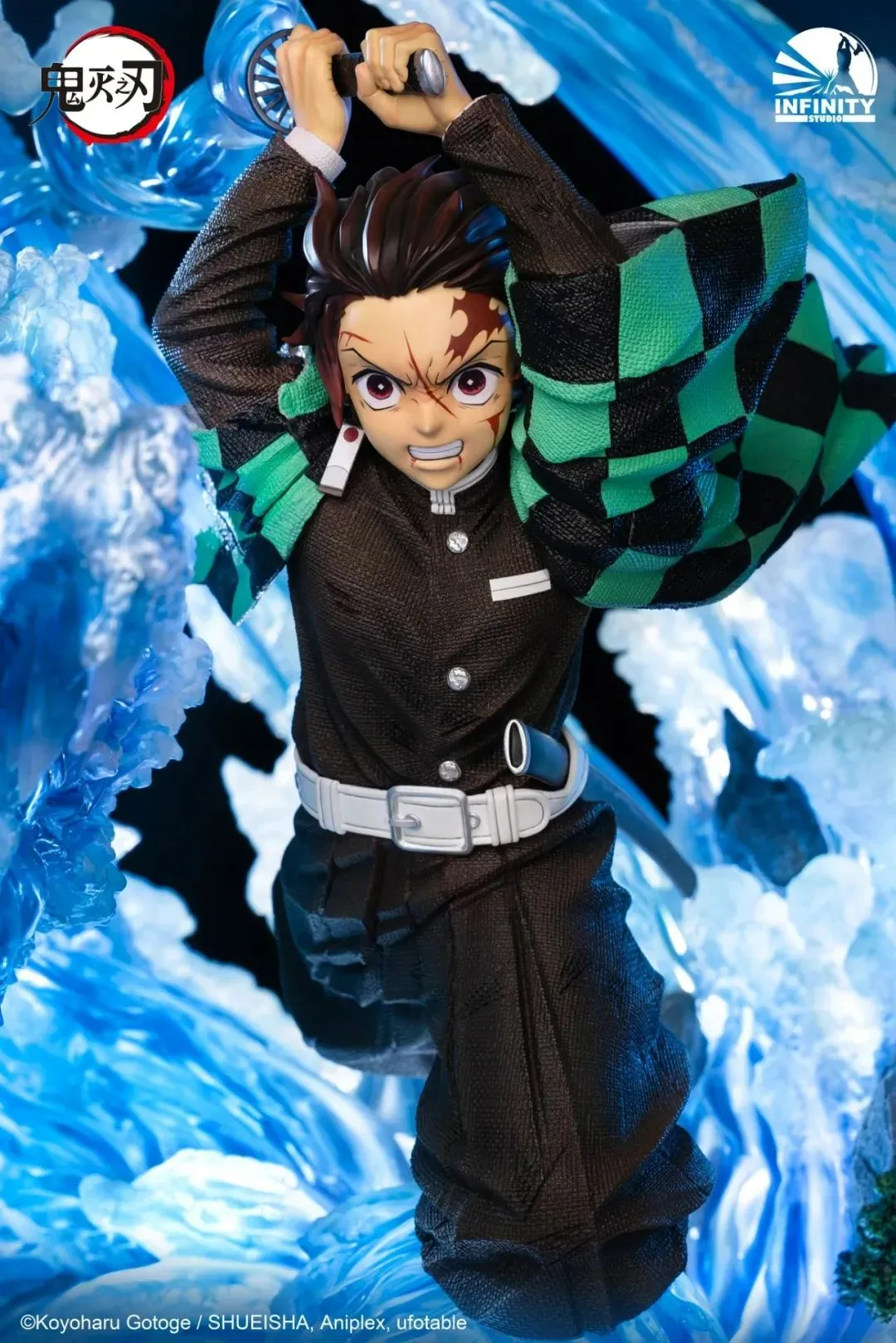 Demon Slayer officially licensed, Tanjiro Kamado appears.
Tanjiro Kamado is the protagonist of the anime Demon Slayer. He sets out on an adventurous journey to save his sister, Nezuko Kamado, who has turned into a demon. He has a kind and gentle personality, is very responsible, and is loved by many fans.
This statue is a Japanese anime collectible created with great care by Infinity Studio, authorized by the official Demon Slayer license. It showcases the brave young man who is willing to sacrifice everything for his loved ones!"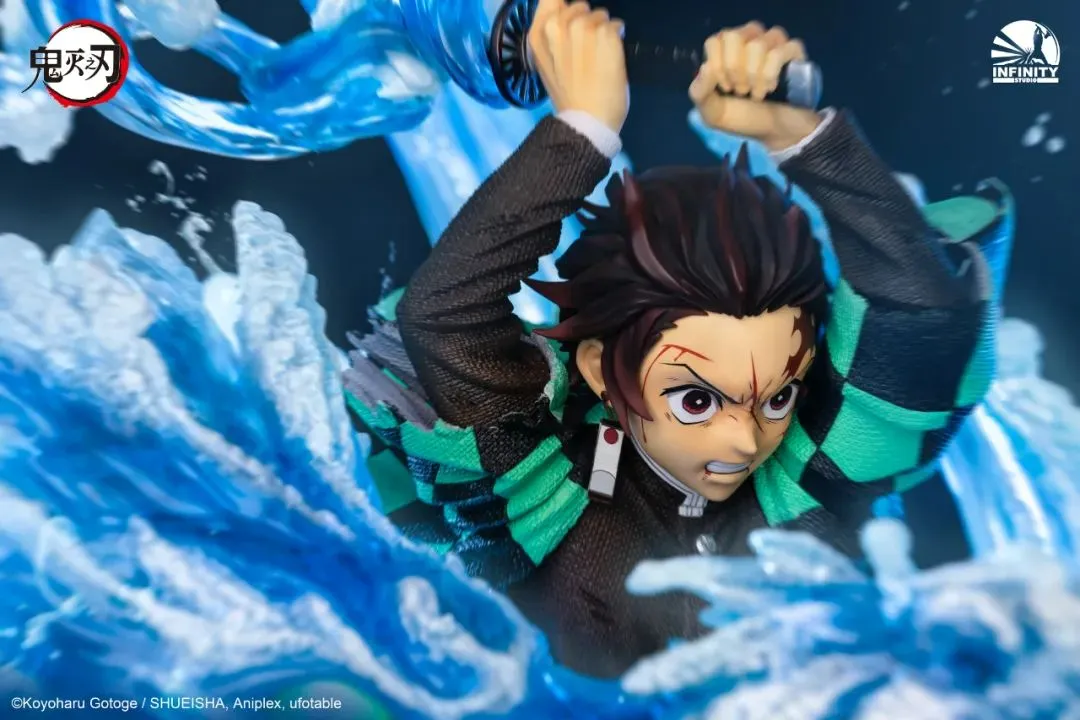 The Water Breathing – Tenth Form – Constant Flux statue scene depicts the moment when Tanjiro Kamado used this technique.
As the sword swings, the blue and white sword aura transforms into a dragon, which roars forward with its mouth wide open, delivering a heavy blow to the enemy. The sword aura rushes out with a howl, sweeping up debris and bushes, creating a powerful visual impact.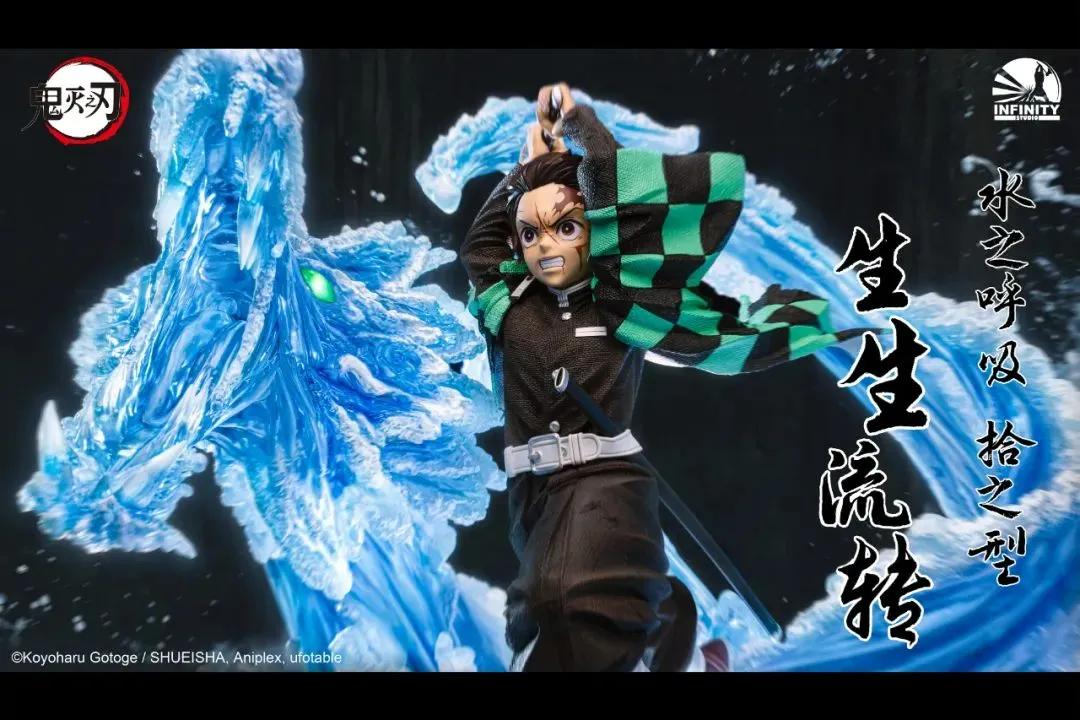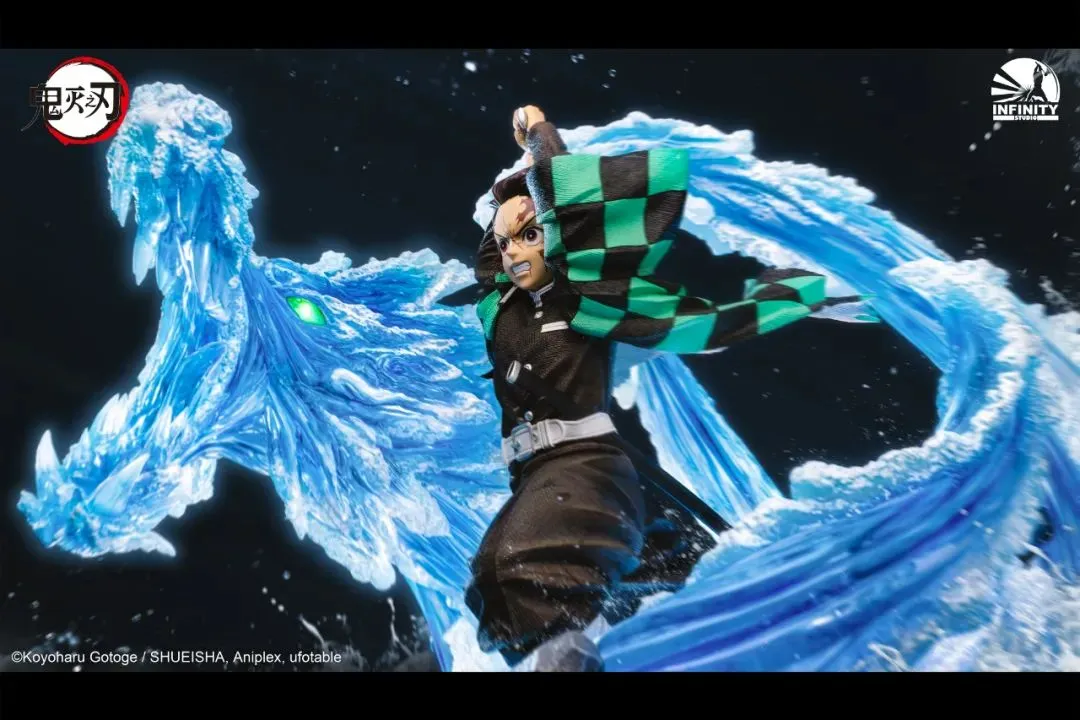 The statue scene is crafted with a large number of transparent pieces and special effect lights to create an ambient atmosphere.
The lighting features two modes, constant and breathing, which enhances the visual impact of the statue with stunning color effects when turned on.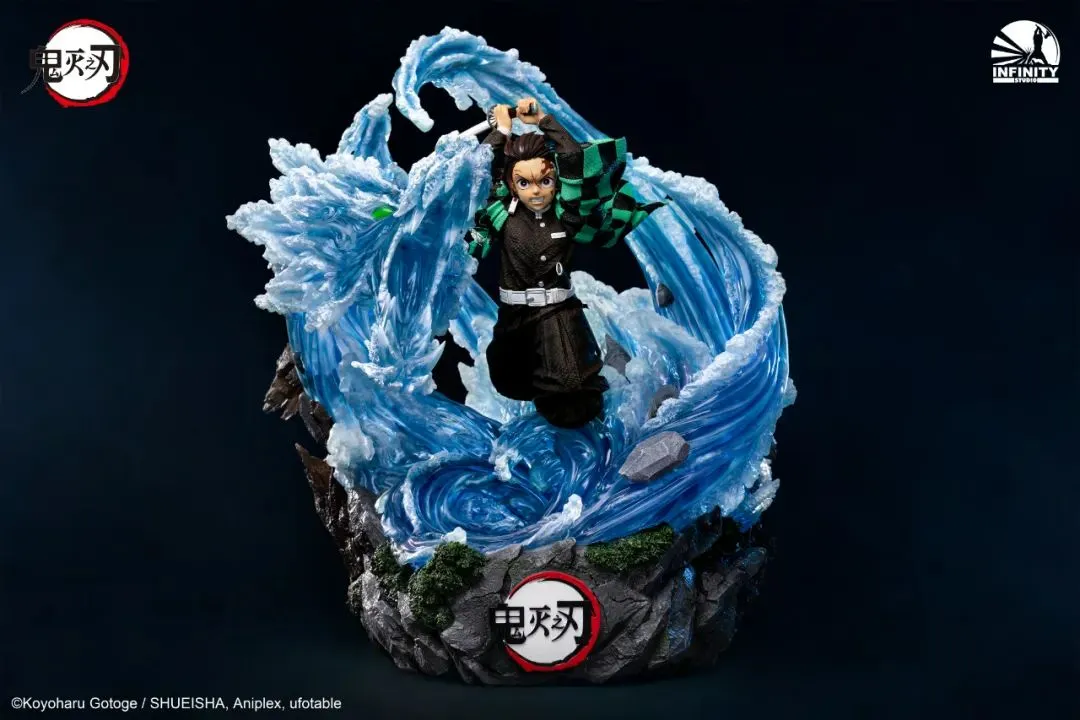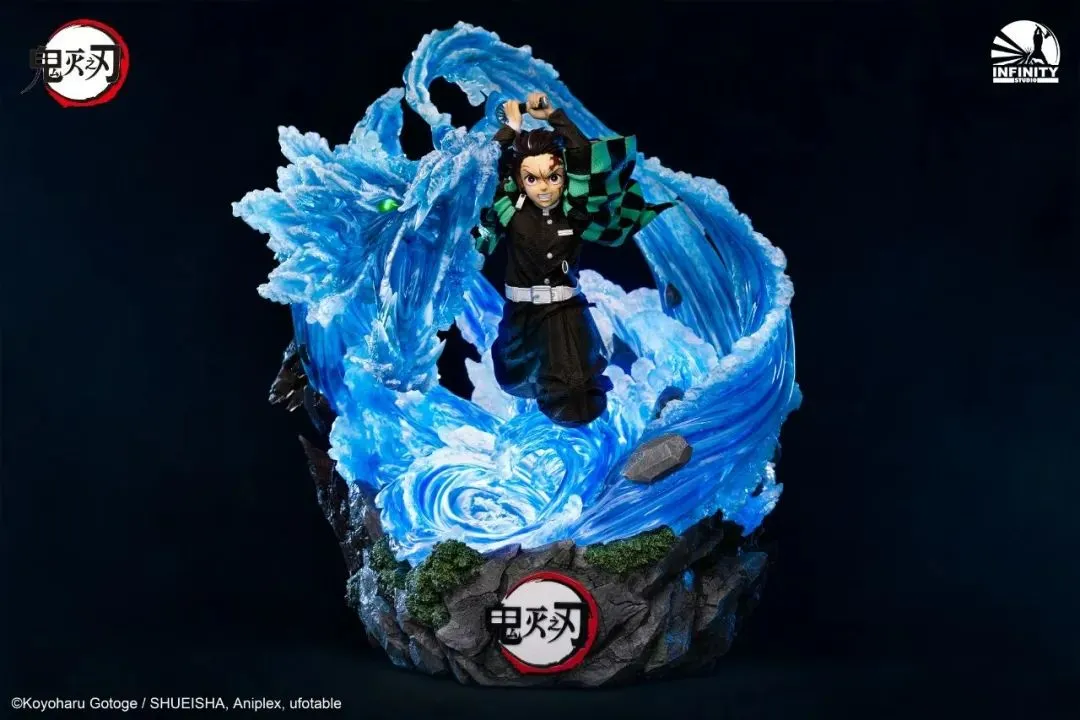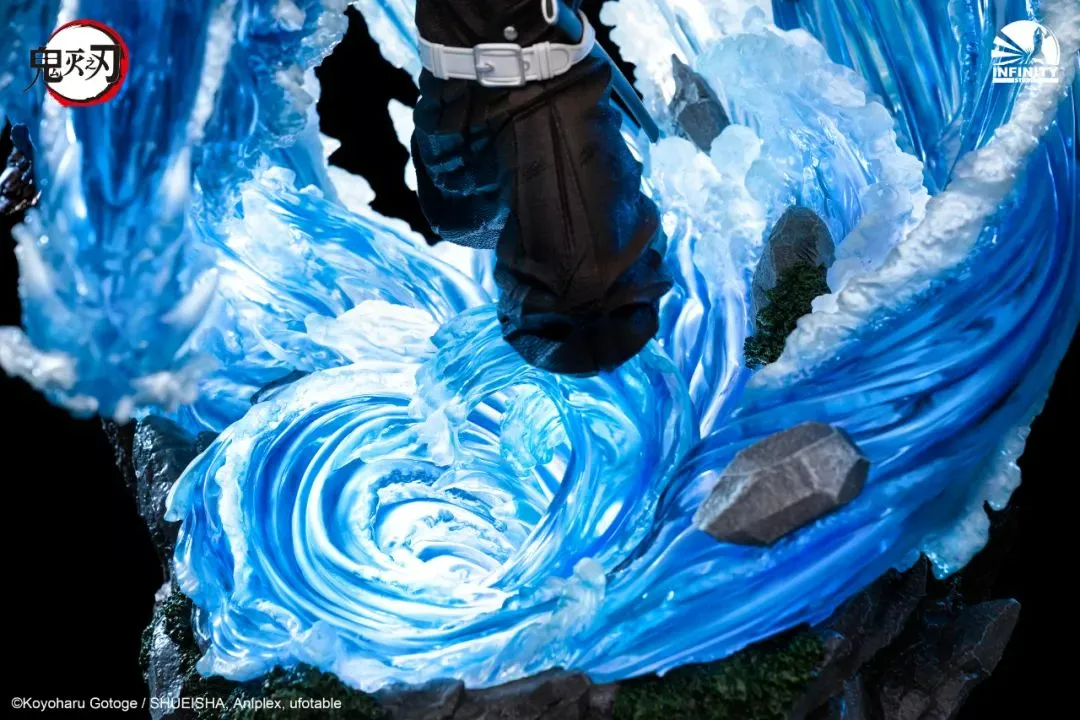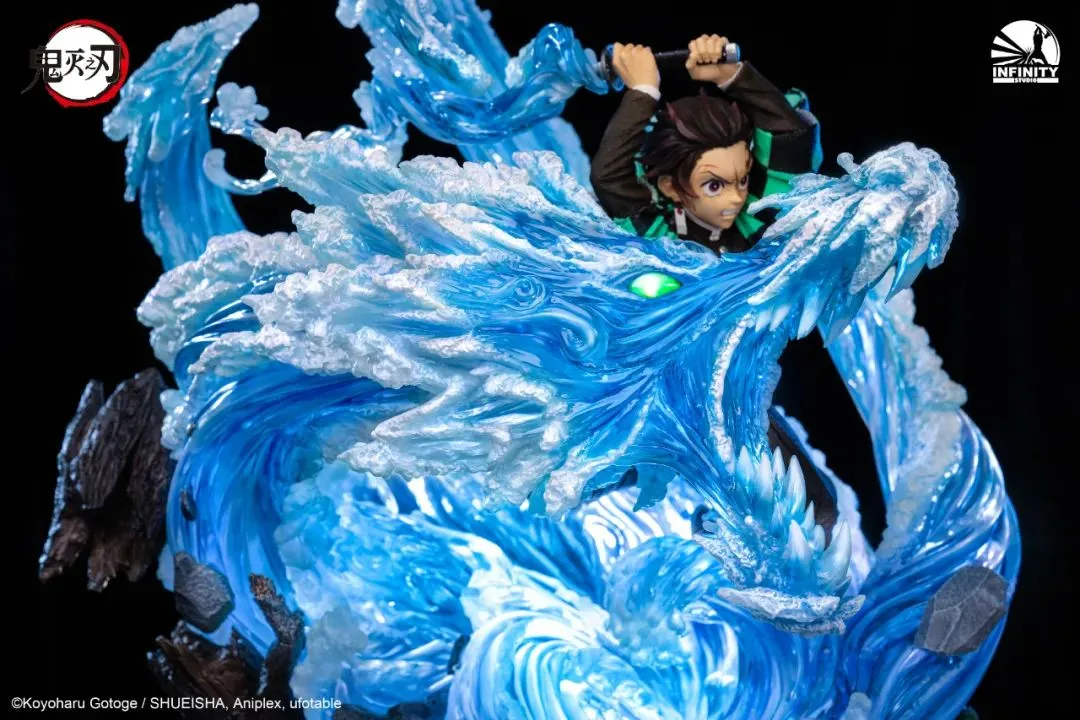 The statue features highly accurate paintwork with attention to detail in the head sculpt to perfectly match the character design. The clothing texture is outstanding, with realistic damage detail inspired by the animation. The hair and clothes sway with the sword aura, seamlessly blending into the gorgeous scene.
Overall, the statue offers a high degree of fidelity in the paintwork, bringing out the best of the character's appearance and surroundings.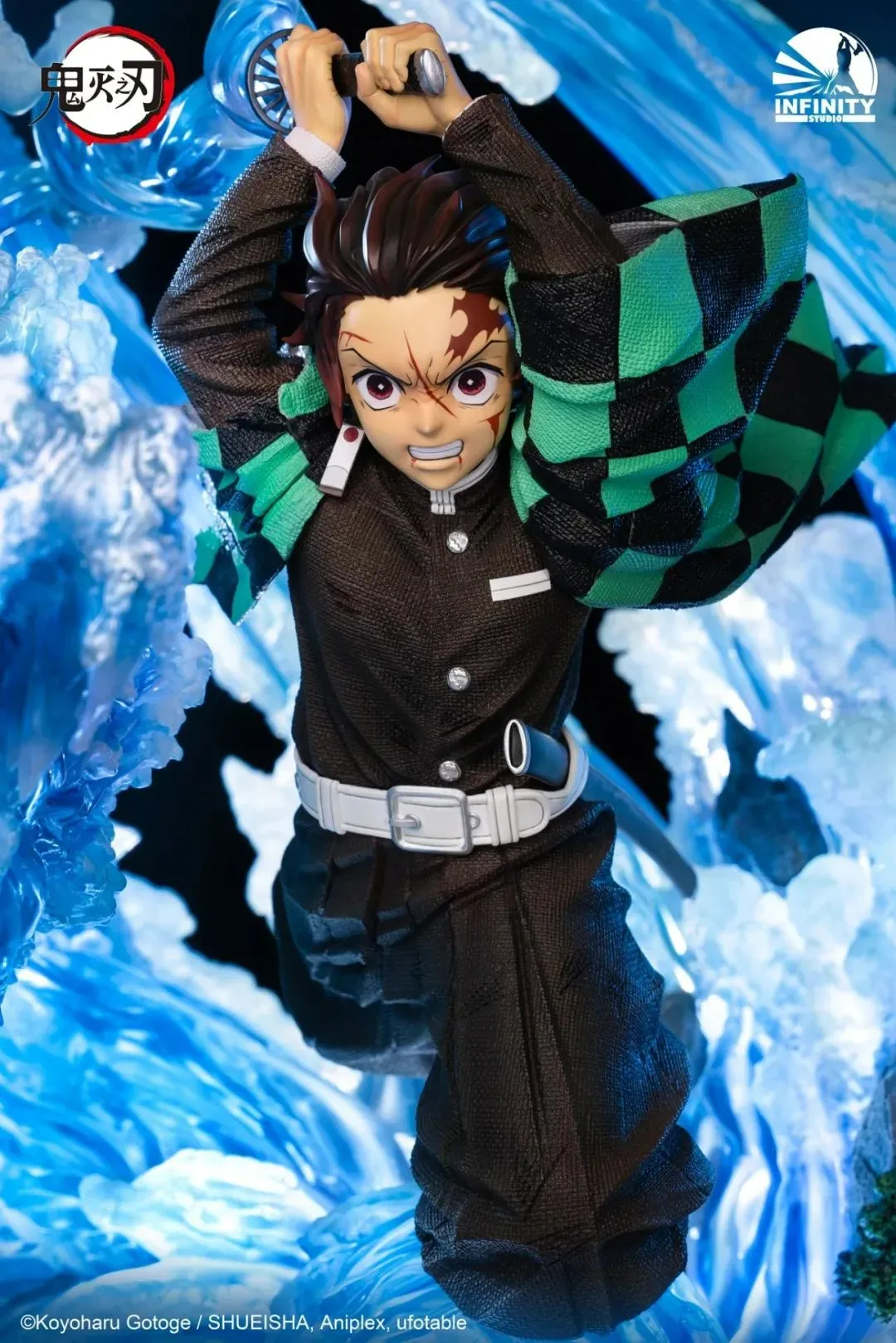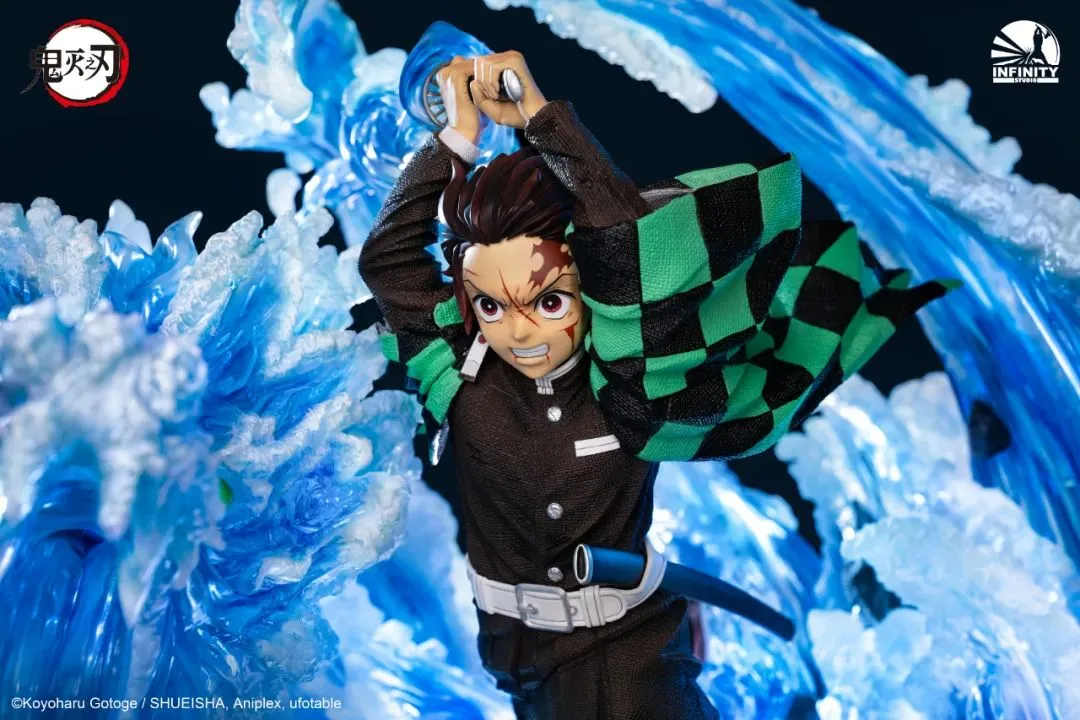 The statue boasts a high degree of accuracy in its paintwork, with the head sculpt capturing intricate details and precise character design. The clothing texture is remarkable, with realistic damage detailing that accurately reflects the animation.
The hair and clothes appear to be swaying with the sword aura, seamlessly blending into the splendid scene. The overall effect is a perfect union between character and environment, with the paintwork effectively bringing out the best of both.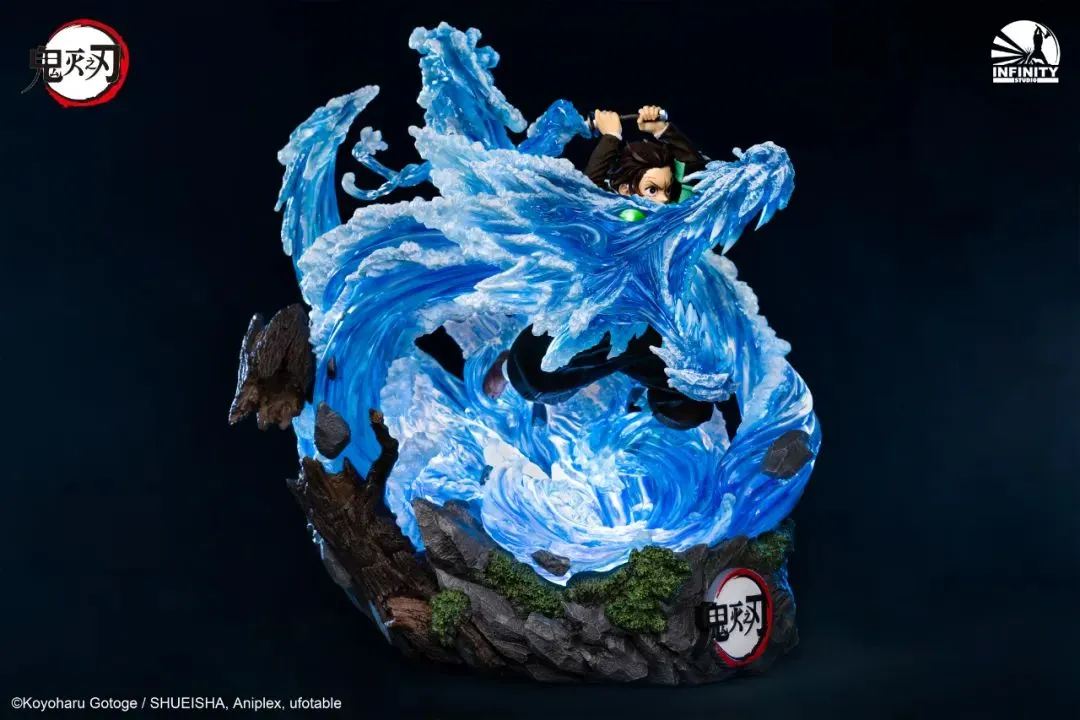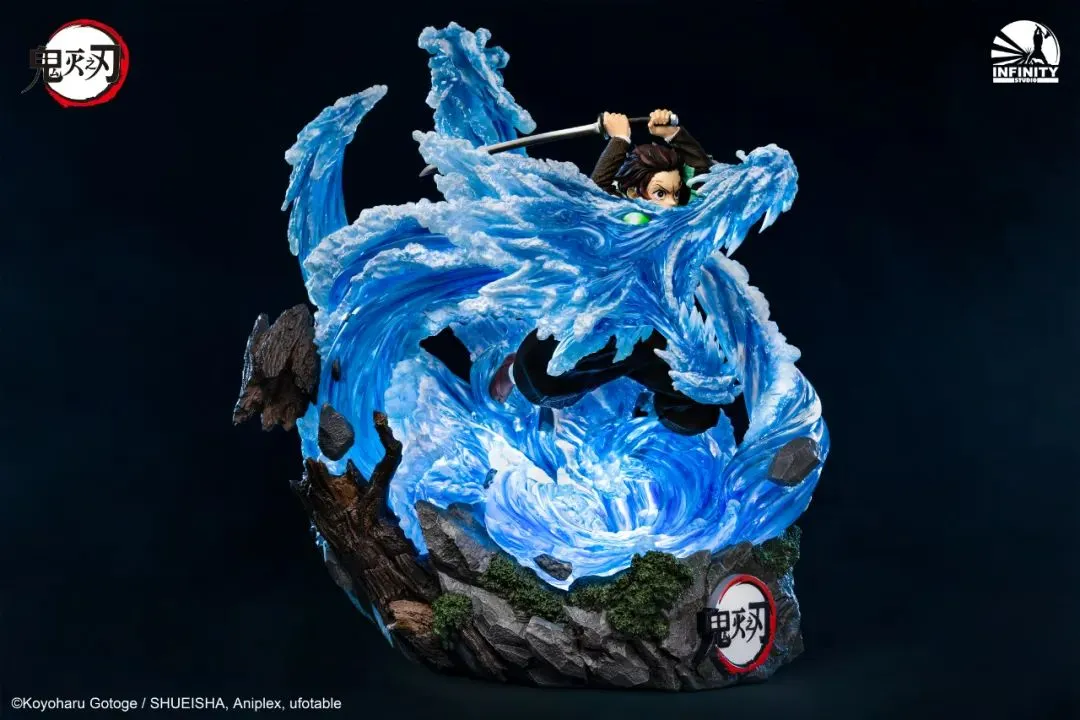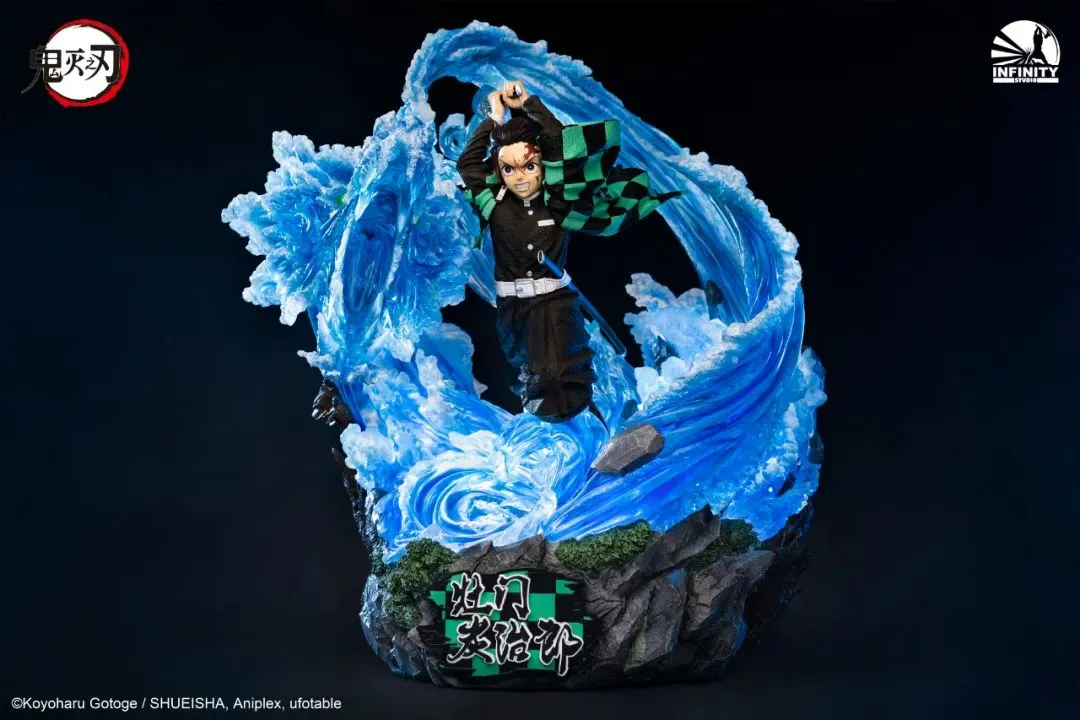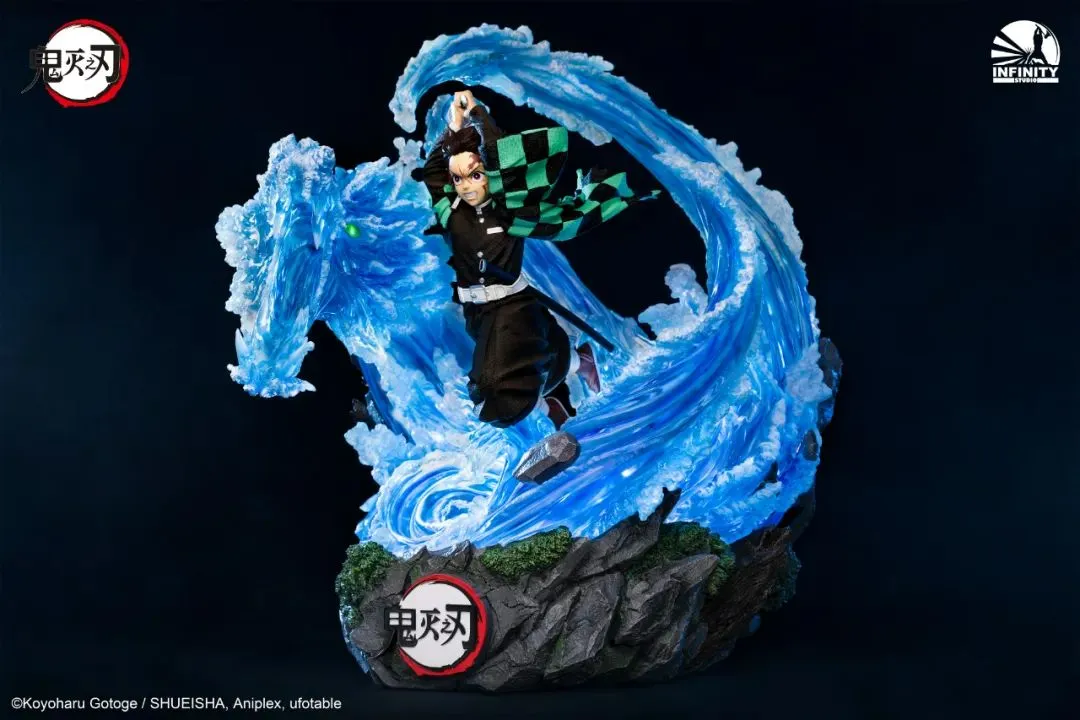 The second installment in the Infinity Studio's "Demon Slayer" 1/4 scale statue series resonates with the previous release, showcasing exquisite craftsmanship and a constant pursuit of perfection.
After repeated deliberations, the base has been transformed from its original design of a pure transparent "water base" to a richly layered rocky formation adorned with lush moss and ancient deadwood. The Demon Slayer logo is prominently displayed at the front of the base, while transparent pieces add a white foam effect to the water scene.
The head sculpt has also been reset for maximum lifelikeness, and all aspects of the statue have undergone extensive polishing to present a vividly lifelike image of the character, Zenitsu Agatsuma, to fans of the series.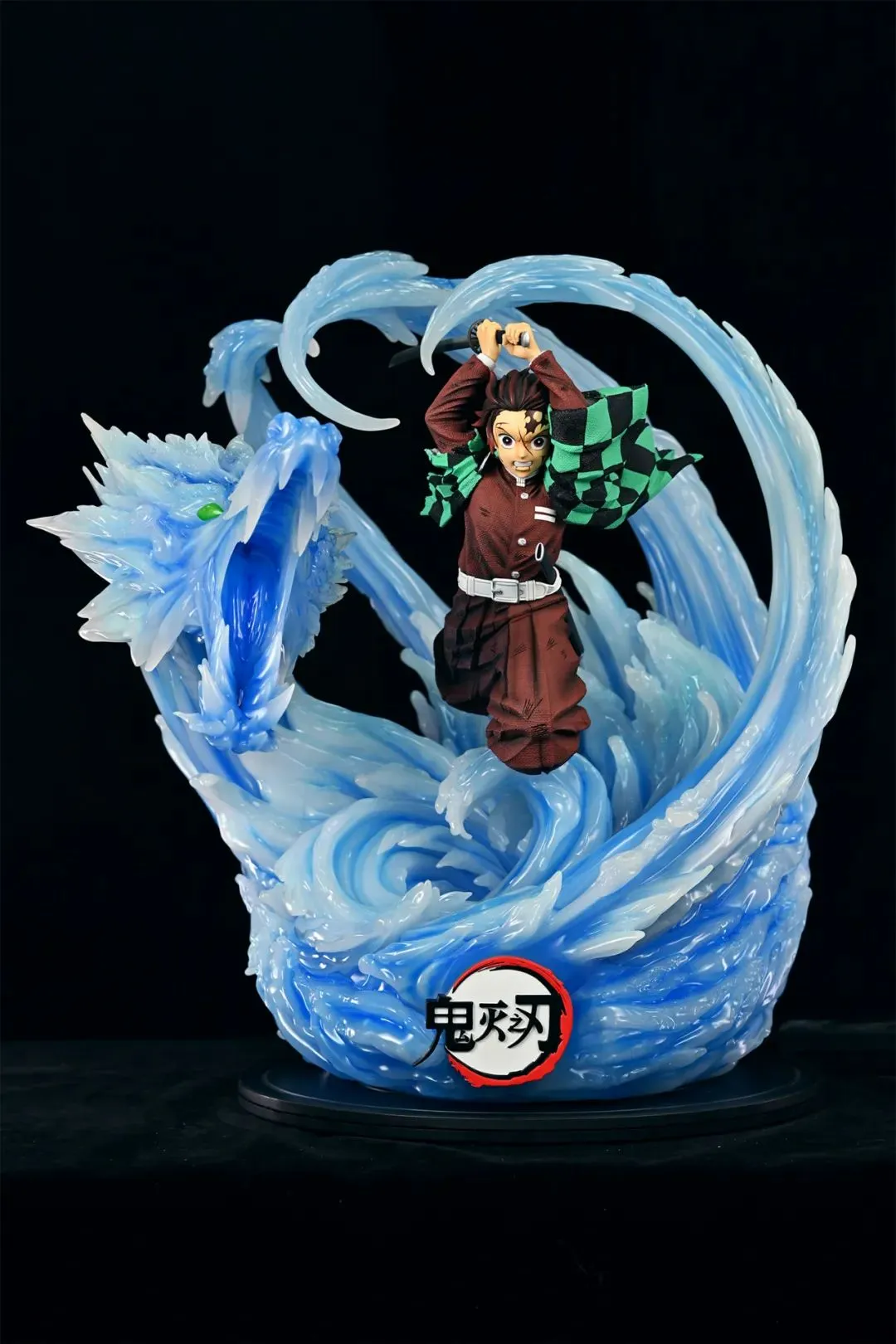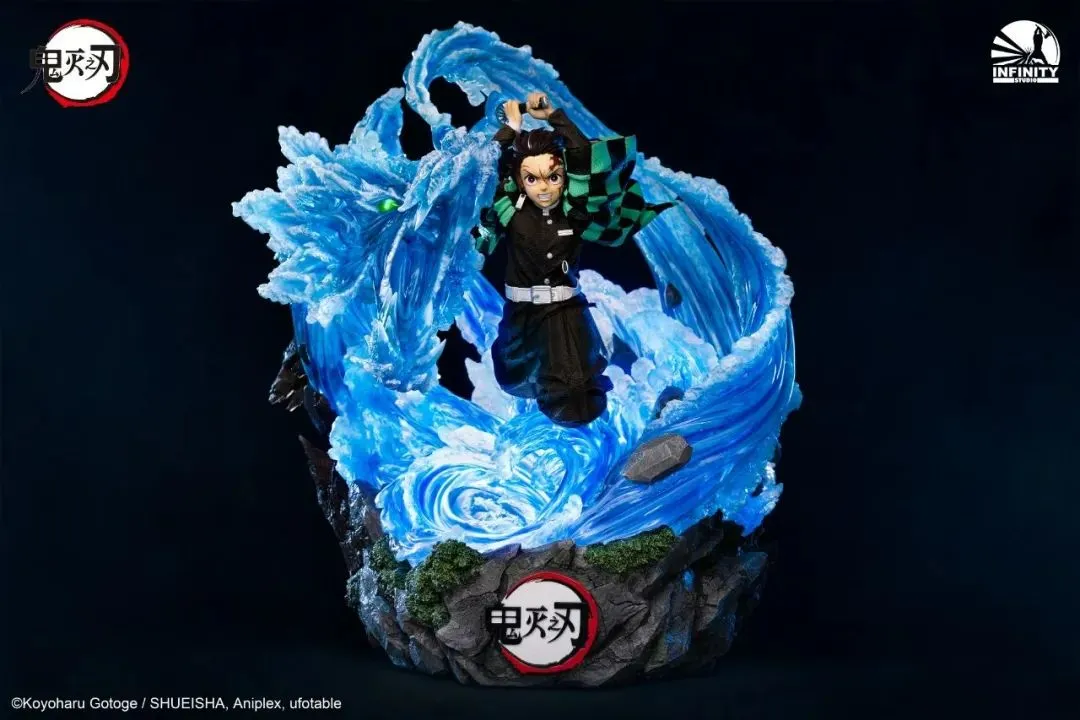 Product Information: Demon Slayer 1/4 Scale Statue: Tanjiro Kamado
Product Code: IFC0040
Product Name: "Kimetsu no Yaiba" 1/4 Scale Statue: Tanjiro Kamado
Pre-sale Date: March 23, 2023 18:00 (China Standard Time)
Pre-sale Price: 6,580 CNY
Official Price: 7,280 CNY
Deposit: 2,000 CNY
Limited Edition Size: 499 pieces
Product Size: H61.2 (cm)*W56(cm)*L62.7(cm)
Product Material: Polystone, PU, metal, LED lights
Estimated Shipping Time: 1st quarter of 2024